Detox Water has been the buzzword for quite some time! Gone are the days when you had to lose weight with those potent tasting, slushy drinks. In fact, they were such a turn-off that you would prefer remaining on the heavier side.
The good news is that detoxification water is the elixir to all your weight loss troubles. And the best part, it's tasty, easy to make and there's variety! Yes, you can finally consume delicious Detox water, lose weight and enjoy life as it comes. Sounds great?
Here's a complete guide to all you need to know about Detox water and hey, we offer you a simple DIY recipe which can guarantee you weight loss in two weeks!
What is Detox Water?
Water that has been enriched with vitamins and other essential nutrients by infusing herbs, fruits etc is detox water. It helps you detox your body and flush out all harmful toxins and impurities.
Once you start consuming this, you will feel the results right away! Detox water does a multitude of things, like helping you lose weight and also boost your immune system.
Benefits of Detox Water
• Flushes harmful toxins
• Improves mood
• Hydrates and nourishes you with vitamins and minerals
• Helps your body release fat cells for weight loss
• Keeps you feeling full so you don't gorge on junk food
• Keeps your organs healthy
While you can try various combinations of herbs, fruits and veggies in your water, the ideal one for weight loss would be the one we specify below.
Important Tips while preparing Detox Water
• Always buy organic fruits, herbs and veggies.
• Make sure you go for glass bottles.
• If you are into buying detox water bottles, make sure they are free of BPA.
• Always go for clean water from natural sources and fresh fruits and vegetables.
• For best results, prepare your water the night before, and store it in the refrigerator so that the water has enough time to sap all nutrients from the fruits and veggies.
• The advantage is that you can use peels in detox water, the part which contains the most nutrients.
Lemon-Cucumber-Mint Detox Water for Quick Weight Loss.
This is a tried and tested one for quick weight loss. With the ongoing summer, this is the best for you.
Ingredients:
• 4-5 slices of cucumber
• A few sprigs of mint leaves
• Around half a litre of clean, cold water
• A few slices lemon(Around half a lemon)
How to prepare
This DIY detox water can be prepared in the comfort of your home in a jiffy!
Just add all these ingredients to the water in a mason jar and close it tight. It can be consumed after two hours or rest overnight in the fridge and consume in the morning. For that zingy kick, you can add a small slice of ginger if you wish.
Benefits of Lemon-Cucumber-Mint Detox Water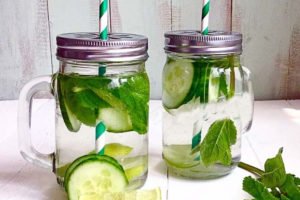 • Cucumber soothes your skin, keeps you hydrated and being high in Vitamin B-5, it fights acne
• Mint aids in digestion and removes toxins
• Lemon being rich in Vitamin C, boosts immunity, gives energy and help keep diseases at bay
• Has anti-cancer properties
Consuming it early in the morning and half an hour before a large meal can help you lose weight.
Try this and see the visible difference for yourself in two weeks! You will surely fit into that dress which has been loitering in a corner of your wardrobe for ages since it was two sizes smaller for you. We guarantee, you will not stop smiling.
Other detox variations you could try include:
• BlackBerry-Orange detox water
• Lemon-Mint Detox Water
• Orange-Mint detox water
• Watermelon detox water
Don't forget to share your results with us.